március 18 –án, 2 nappal a tunéziai Függetlenség Napja előtt 3 fiatal férfi megvárta, amíg egy turistabuszról leszállnak a turisták, majd beterelték őket a tuniszi Bardo múzeumba, és megöltek közülük 18-at , és ötöt a múzeum takarítói közül. Egy rendőr is életét vesztette a támadásban. Összesen kb. 50-en sebesültek meg. A támadók egyikén robbanóöv is volt. A Bardo múzeum az országgyűlés épületében működik. A támadás idején azt lehetett hinni, hogy a támadás politikusok ellen irányul.
Tunézia gazdag a római kori műemlékekben, a főváros mellett helyezkednek el a történelmi város, Karthágó romjai. A város szívében lévő Bardo múzeum a világ legnagyobb római kori mozaikgyűjteményének ad otthont. Az El Djem-i amfiteátrum pedig jobb állapotban maradt meg, mint a híres Colosseum.
A fiatalok, amennyire a híradásoknak hinni lehet, átlagos életet éltek. Az egyikről úgy nyilatkoznak a szülei, hogy kb. egy éve kezdett egy olyan mecsetbe járni, ahol egy szélsőséges imám prédikált. A fiúk – valószínűleg ennek köszönhetően – Líbiába mentek, hogy az ISIS, vagyis az Iszlám Állam nevű terroristaszervezet kiképezze őket, és a saját országuk ellen forduljanak arra hivatkozva, hogy a nyugati civilizáció ide is betette a lábát, és Tunézia "hitetlen lett".
A szervezet úgy kívánja szétrombolni a "mérgezett" nyugati civilizációt, hogy fiatalok agyát mossa át a világ minden tájáról , és győzi meg őket, hogy jó cél érdekében forduljanak a saját országaik ellen. Demagógiát terjesztenek a cél nélküli fiatalság körében. A cél, hogy minél jobban megosszák őket. És ott lehet őket leginkább megfogni, ahol a legjobban fáj. A vallásosságuknál. A muszlimoknak a jó ember és a jó muszlim fogalma összefonódik. Ezért sokukat meg lehet fogni azzal, hogy így-úgy kimagyarázzák a szent írásokat, és ezzel más emberek fölé helyezik őket. Mivel a valódi iszlám feltétlen istenszolgálatot, és jámborságot, valamint emberbaráti szeretetet követel, egy valódi, hívő muszlim sosem állna be közéjük. Csak akiket megrészegít a hatalom, és erőszak lehetősége.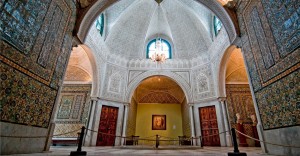 Ez a 3 tunéziai fiúval sem volt másképp. Belülről próbálták meg szétzúzni a rendszert. Tunézia, a Jázminos forradalom óta képtelen talpra állni, nagy a munkanélküliség a diplomás fiatalok közt is. Az Iszlám állam a probléma okát abban látja, hogy nyugati országokkal "közösködnek". Ezért az a "remek" ötletük támadt, hogy mivel az egyik fiú korábban idegenvezetőként dolgozott, tudja, hogyan kell a turisták közelébe férkőzni. Ha pedig ez megvan, jelzés értékkel meg kell ölni őket, mert így a világban meg fognak ijedni, és nem jön ide többet turista, tehát a nyugati befolyás nagy részének elvágják az útját.  További támadásokat vetítettek előre a jövőben, melyek szerintem a kereskedelmi, és a politikai kapcsolatokra irányulhatnak.
Az ISIS elsősorban arab országok beli, szegény, reményvesztett fiatalokat toboroz a sorai közé, akik bizonyítani akarnak az életben. A líbiai kiképzőtáborokban néhány napos alapkiképzést kapnak a fiatalok. Nem szeretem, amikor hithű muszlimoknak hívják magukat, vagy más őket, mert az ISIS a legkevésbé sem áll hithű muszlimokból. Egy vallásához hű muszlim ember nem iszik alkoholt, ahogy ezekben a táborokban szoktak. A dzsihád fogalmát is gyakran félreértelmezik. Annyit tudnak, hogy szent háborút jelent, de azt nem, hogy a Korán szerint olyan háborúról van szó, ahol csak megvédhetik magukat, ha rájuk támadnak, támadást nem indíthatnak.
Pedig az Iszlám állam pontosan ezt csinálja. Megmagyarázzák a híveiknek, hogy a nyugati világ veszélyezteti a keletit, kvázi megtámadta (ez az olajból élő arab országok tekintetében nem is teljesen alaptalan), mégis durva, általánosító túlzás.
Ideológiai agymosás folyik. Ugyanakkor ígéretekkel is csábítják ezeket az embereket, azt állítják, hogy vagyonokat keresnek majd, ha Szíriában lesznek – mondja Alaya Allani, a Tuniszi Egyetem professzora.
Változás 3 évvel később, 2014 januárjában történt. A világi, reformista Nida párt nyerte az első szabad választásokat. Új alkotmányt fogadott el a parlament, mely biztosította a vallásszabadságot, kiterjesztette a nők jogait és elutasítja a Sáriát.
Csak ott van a hiba a gondolatmenetben, hogy mivel Tunézia fele tengerpart, az ország bevételének legnagyobb része a turizmusból származik. És ha nem fognak áramlani a turisták az országba, akkor még nagyobb lesz a munkanélküliség. Rengeteg, turizmusban dolgozó embernek kiveszik a falatot a szájából. Már így is nagy a hiány a gazdaságban, és a fiatalok zöme ki akar jutni az országból a jobb élet reményében.
"Az Iszlám Állam képtelen lesz megvetni a lábát magában Tunéziában, de fiatal tunéziaiakat fegyverez fel és juttat vissza az országba, és ezt a folyamatot nehéz ellenőrzés alatt tartani."
Szinte azonnal indult egy mozgalom a facebook-on, mivel a turisták felismerték ezeket az összefüggéseket, és támogatásukról akarták biztosítani Tunéziát. Tízezrek posztolták ki #JeSuisBardo hashtag (link) alatt a saját fotójukat, melyekre ráírták a támogató, együtt érző üzeneteiket, vagy azokat, amelyben azt ígérik, idén nyáron Tunéziában fognak nyaralni. Elővigyázatosságból néhány utazási iroda, és komptársaság nem indít járatokat májusig, a kint lévő turistákat még akaratuk ellenére is hazaszállítják.
 Az épület bejáratánál sok ember gyűlt össze a támadás után.

– Azért jöttünk ide, hogy megmutassuk nem tudnak megfélemlíteni a terroristák. Tunéziaiak vagyunk, összetartunk.
Ez is jól példázza, hogy nem lehet pár elvakult ember tettei alapján elítélni egy egész országot. Többször jártam Tunéziában. Nagyon barátságos, vendégszerető emberek. Szégyellik magunkat a világ előtt, hogy az a kép került be róluk a köztudatba, hogy ne lenne biztonságos odamenni.
A támadók közül kettőt a helyszínen lelőttek a rendőrök (Yassine al-Abidi, 20, és Hatem Khachnaoui, 26), egyet letartóztattak, egy után pedig még folyik a nyomozás. A főváros utcáin véletlenszerűen igazoltatják az embereket. A tunéziai emberek az eset után az utcákra vonultak, hogy tiltakozzanak a terrorizmus ellen.
Mindig megfordítom a helyzetet gondolatban. Most is belegondoltam, hogy vajon ha Amerikában, Belgiumban, vagy Dél-Afrikában történt volna, az kit érdekelne? Pár nap alatt elülne a hírverés. De itt arabokról van szó. Róluk eleve feltételezik, hogy terroristák. Habár az arány elég beszédes. Ha csak Tunéziát vesszük, akkor néhány a tízmillióhoz.
Források:
Manhunt for third suspect in Tunisia
17 tourists, 2 locals slained in the museum attack
Tunéziai utánpótlás a dzsihádistáknak
A véres merénylet után megint kiürül majd Tunézia
Egész Tunéziát letaglózta a szerdai merénylet
Már 4 embert letartóztattak a tuniszi merénylettel kapcsolatban
Civilben idegenvezető volt a tuniszi tömeggyilkos
Videón a tuniszi múzeumi támadók
Vért kent magára, hogy halottnak tettesse magát
Májusig nem indítanak utakat Tunéziába
… és köszönöm a szemfüles barátnőimnek, akik ötletet szolgáltattak a cikk megírásához.