Már kétszer jártam a Vegan's Prague nevű vegán étteremben Prágában, először Csabi barátom vitt el, nemrég pedig a családommal voltunk ott. Elsőre annyira ízlett a cukkini lasagne fantázianéven futó fogás, hogy ismét azt ettem, és ugyanolyan finom és könnyű volt, mint először. Ezt az ételt megpróbálam rekreálni, vagy legalábbis ez inspirálta az alábbi receptet.
Nem vagyok sem vegetáriánus, sem vegán, csak igyekszem csökkenteni a húsfogyasztást, így én az eredeti recepthez adtam egy csavart, és igazi sajtot használtam kesudió sajt helyett, ami egyébként nagyon finom, valamint tejfölt tettem a felső sajtréteg alá. Isteni lett!
A vegetáriánus és vegán kajákat azért is szeretem, mert nem kómálok be tőlük, nincs az a kellemetlen teltségérzete az embernek, hogy most le tudnék dőlni, mégsem marad éhes.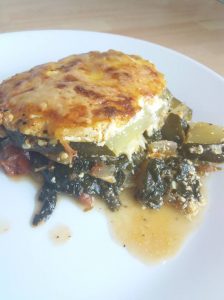 Hozzávalók 4 személyre:
Kókuszolaj a hagyma alá
4 közepes cukkini hosszában 3 mm-es szeletekre felvágva
25 dkg (1 nagy zacskó) spenótlevél
2 konzerv paradicsom (800 g)
1 nagy vagy 2 kis fej vöröshagyma
oregano, bazsalikom, majoranna, só bors, fokhagyma granulátum
30 dkg nem túl erős aromájú kemény sajt (én trappistát használtam)
4-5 ek. tejföl
Elkészítés:
Felkockázzuk és megpirítjuk a hagymát egy nagyobb lábosban. Jöhet rá a 2 konzerv paradicsom és a fűszerek. Több ütemben a parajlevél, ami hamar összefonnyad. 15 percig kell csak főzni. A magasfalú tepsi alját kirakjuk 1 réteg felszeletelt cukkinivel. Rá a szósz, egy réteg sajt, cukkini réteggel zárjuk, elkenjük rajta a tejfölt és ráreszeljük a maradék sajtot. Én 50 percig sütöttem az előmelegített sütőben 160 fokon. 10 perc pihentetés után lehet szeletelni.
[ENGLISH]
This recipe was inspired by Vegan's Prague restaurant's zucchini lasagne dish.
Ingredients (for 4):
coconut oil for the onions
4 middle sized zucchini sliced (3 mm)
250 g spinach leaves
2 tomato tins
1 large or 2 small onions
oregano, basil, marjoram, ground black pepper, garlic powder, salt
300 g  grated cheese
4-5 tbsp sour cream
Preparation:
Sauté the onions in the coconut oil, combine with the tomato tins, the spices, and the spinach leaves. Cook for 15 mins. Create a layer of zucchini slices on the bottom of the high baking pan than add the sauce and a layer of grated cheese. Finish with zucchini slices, spread the sour cream and another layer of cheese on the top. Bake for 50 mins on 160 Celsius degrees. Let it rest for 10 mins before serving.